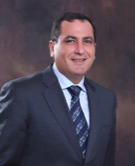 Dr Salaheddin Al-Bashir
Founder and Senior Partner
sbashir@iblaw.com.jo
Qualifications and Education:
Lawyer, Jordan Bar Association, International Bar Association
PhD in law, McGill University, Canada
LL.M Harvard Law School, USA
LL.B University of Jordan

Dr. Al Bashir has held a number of cabinet positions in the Government of Jordan. He served as the Minister of Foreign Affairs, Minister of Justice, Minister of State for Government Performance, Minister of State for Prime Ministry, and Minister of Industry and Trade
Dr. Al Bashir is the recipient of King Abdullah II Medal of the Third Order for his remarkable contributions to the conclusion of Jordan-US Free Trade Agreement.
Dr. Al-Bashir's practice focuses on corporate and commercial law including mergers and acquisitions, capital markets, finance, private international law, international trade law, privatization and regulatory governance. Dr. Al Bashir has represented lenders, developers, contractors, consultant, as well as governmental agencies,
involving local, regional and international clients, in matters relating to international trade agreements, telecommunications, special zones, e-government, industrial projects and foreign investments.
In the field of project development, Dr. Al Bashir represents clients in matters relating to project appraisal, administration of competitive tenders, contract drafting and negotiation and the provision of post-contract administration advice.
Dr. Al Bashir has significant knowledge in litigation, namely in the resolution of large complex matters by negotiation, litigation and arbitration, including appearing as lead advocate in international arbitration proceedings.